Minimising transmission of

Clostridium difficile
Clostridium difficile is a bacterium found in the intestines. C. difficile can cause disease when the normal bacteria in the gut is disrupted, usually through antibiotic use. C. difficile is the biggest cause of infectious diarrhoea in hospitalised patients.

The spread of C. difficile can be minimised by improving practices such as hand hygiene and isolation procedures for patients who have tested positive for C. difficile infection. Staff knowledge and education is key to achieving excellent standards of infection prevention and control.
Game of Stools: The

Clostridium difficile

board game
Game of Stools is a fun and competitive board game, designed to teach healthcare professionals about C. difficile in an engaging and effective way. The game encourages discussion between players about prevention and management of infection, and increases knowledge and confidence around C. difficile, ensuring patients are cared for promptly and safely.
98% of players improved their knowledge of

Clostridium difficile
In a trial across all three main Betsi Cadwaladr University Health Board hospitals, Game of Stools was played by 85 healthcare professionals. Players completed pre-game and post-game questionnaires on C. difficile infection.

After playing Game of Stools, 98% of participants answered more questions correctly, demonstrating a definite increase in knowledge. Many improved their scores by up to 50%.
Game of Stools on C Diff Foundation Radio!
Hear Games of Stools discussed on USA's C Diff Foundation radio show. It broadcasts weekly across the world, informing listeners about medical research, C.diff prevention, treatments, clinical trials, environmental safety products, Infection Prevention and more. On this show, hear from:

Gareth Pierce Jones: IPC nurse & creator of Game of Stools
Dr Jonathan Sutton: Consultant Gastroenterologist at BCUHB
Melvin Bell: Co-Founder of Focus Games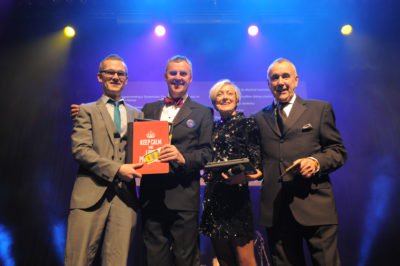 Gareth Pierce Jones (pictured left) recieves the piccalilley award from the academy of fabulous NHS stuff.
Meet Gareth: Inventor of Game of Stools
Gareth Pierce Jones is an Infection Prevention and Control nurse at Betsi Cadwaladr University Health Board (BCUHB). Gareth is passionate about using non-traditional teaching methods to help healthcare professionals to learn, and both he and BCUHB have a zero-tolerance approach to avoidable infection. Gareth created Game of Stools to educate staff about C. difficile in a fun, alternative way.
Ready to buy game of stools?
Or perhaps you'd like to get in touch?